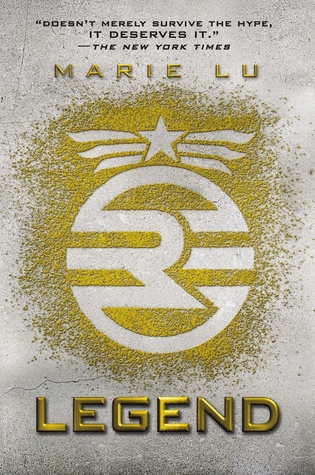 Published November 29, 2011
ISBN-13 9780142422076
Goodreads Synopsis:
From different worlds, June and Day have no reason to cross paths...
Until June's brother is murdered, and Day becomes the prime suspect.
In a shocking turn of events, the two uncover what has really brought them together, and the sinister lengths to which their country will go to keep its secrets.
Legend
is a book I've wanted to read for a long time, but have always put off.
I knew it would be my perfect book, and it was. It had all the elements that I so dearly love in fantasy books.
But.
I don't usually say this about
fantasy
books - they're not know for being steeped in scientific fact - but it wasn't very plausible.
Oh, I hate myself for saying that. I just.
The agility and climbing and speed and enhanced eyesight.. It just made me quite skeptical because there doesn't seem to be any
natural
reason for June or Day to possess these skills. And they are
skills
not natural abilities.
Also, I read on the
wiki page
for
Legend
and the rest of the series that the country was kind of like North Korea, and then that was literally all I could think about when I was reading.
I would have loved more of a description of Day at the beginning - maybe I skimmed over it, but I thought he had black hair for the first 20% of the book.
I did really like the Robin Hood themes. He's like Sam Smith, he ain't got money on his mind either.
You may want to watch this video to get the reference, but I warn you this is the WORST SONG EVER and you will be singing it ALL DAY.
You're better off not getting the reference and we can all get along with our day.
Other things I liked in
Legend
were:
Metias leaving June a coded message. Also a freaking website. #hackers
Day being a 'flawed' hero. Physically. You don't often get that. Then again, you don't usually get scientists attacking you because your IQ exceeds people richer than you.
The streak in the crowds hair for solidarity, I thought that was really cool.
The descriptions of some of the places, they seemed really beautiful. I need to go to America.
The numbers appearing in strange places. That was great, I kinda saw it coming but it was still a great surprise. #ForeshadowingAwareness
There were a lot of threads coming together for this book, which I really enjoyed. A lot of intrigue, the ole red herring tactic.. I liked it a whole lot.
I think I would really benefit from reading Legend again though. I think I'd just given up on Paper Towns when I started reading Legend and John Green really couldn't tempt me with that one. I needed an interim book, but I chose Legend and it didn't rate as highly with me as it should have.
Also one more thing that I really liked was when Day's brother sacrificed himself. I thought that was really sweet, quite heartwarming.
I kind of started Prodigy as I was walking home from the cinema tonight, but I only read about a page.
I really want to finish Cress first.
Did you like Legend?
Will I like Prodigy?
Stay tuned!