Someone just asked me what I'm going to read next, and I haven't got a clue!!
Tweet me some suggestions?
@aimee_robyn
I have put
Paper Towns
to one side for now, and
Divergent
is an audiobook (also previously read so I can pick up at any point).
In other news, our Loot Crate came today!
If you didn't know,
Loot Crate
is to gamers what a beauty box is to beauty bloggers.
(Is there a book one of these, or can this be my new business idea?!)
Just a sample of pop culture/gamer merch that costs around £28 per month and in most cases is a lucky dip of treats. You know the topic beforehand, ie. Launch, Warriors, Titan. This month it was Dragon, so obviously
Game of Thrones
merch, but we also got a 20 sided die and a 20 sided die stress ball! There was some dragon beef jerky stuff which looked like when you slice up a rubber and paint it green..
There was also a figurine of a Nord from the
Elderscrolls
franchise and a mystery mini vinyl from
Game of Thrones.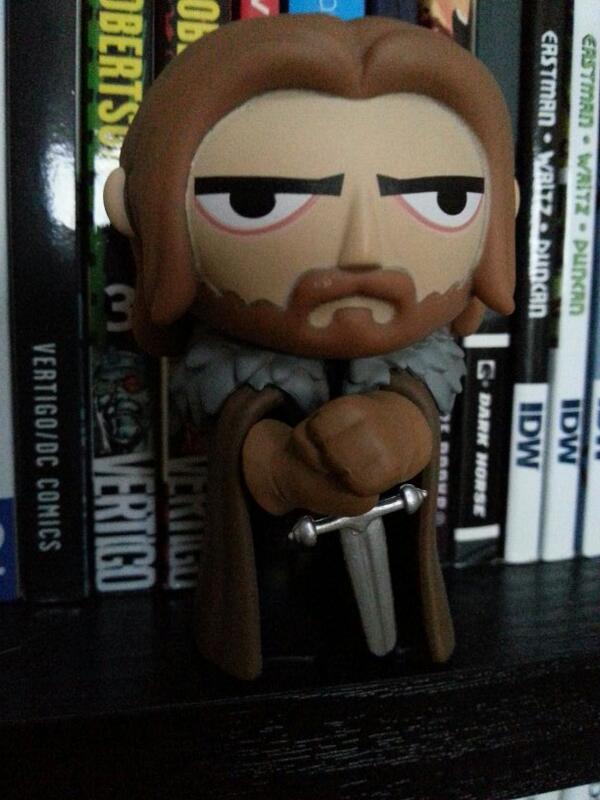 Before Dami opened the box he said "I don't know why you're excited, it's not going to be Ned Stark or anything. He's going to be way too sought after, it'll probably be Dragonlady" - AKA Dany - "or someone rubbish."
(He wasn't saying that Dany is rubbish, just that he loves Ned Stark the best.)
And then he pulled the little Ned Stark figurine out of the packaging and I could see his face light up and it was AMAZING.
And here he is, guarding our comics with Ice in hand.
So that was quite a good day off. I'm feeling all relaxed and stuff. Went for a walk down to the beach and through the dunes.
Feeling a little bit 'writey' after reading
Fangirl
so I'm going to see where that leads me.
Have a great rest of the week!
And don't forget to tweet me some book ideas!