Yesterday I went to watch the Rhyl Race for Life because my boyfriends mum was taking part.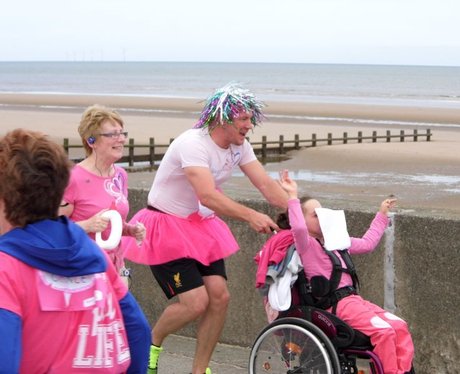 Race for Life in Cancer Research UK's flagship event. It's pretty cool, but women only! There were a couple of men in wigs running with their kids, though, which was really cool. Shaun's not uploaded any pictures from the other day yet, so I don't have any of Julie.
To find out more about Race for Life, click
here
.
Anyway! We woke up early to see her off, then went for a wander in Rhyl.
For some reason, libraries aren't open on a Sunday! I think that's crazy! So, instead we wandered around and went in the British Heart Foundation charity shop. I had a quick look at the books and saw some
Morganville
ones. Then I saw
Bitter Blood
, which has been on my TBR for a couple of months now, so I just
had
to buy it!
I was looking at the shelf and thinking, 'oh, I've already read that one. What a shame, it would be cool if there was one I hadn't read'. I looked at the cover and though.. 'hang on a minute! I've seen that cover so much because it's on my TBR list like three times!!'
For a brunette I sure can be blonde!
Anyway, very happy with my purchase!
It's a little bit battered, but still makes me smile to look at it. Can't wait to read it, I recently found out that there are only two more books after this one and I'm gutted.
On the flip side, this means that there is
someone
in the Rhyl area that reads something that I'm really into! I need to meet this person!