Sorry that I've been AWOL for a few days, it's been a hard week.
Unfortunately I've been unable to take part in the
Bout of Books
readathon that loads of you have been taking part in due to work commitments, so I'm going to hold my own readathon next week! I have a stack of 7 books on my windowsill now, and they will be devoured by next Sunday!
For now, I'll update you with what I've been reading today.
The Declaration - Gemma Malley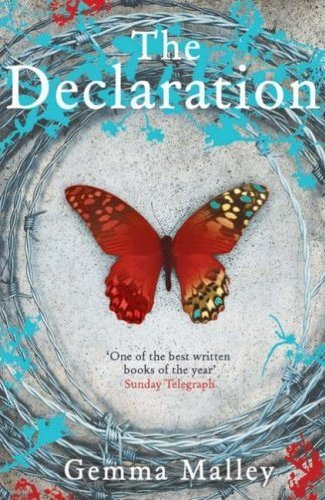 I am enjoying getting back into Surplus Anna's head! I read this book about five years ago and loved it. It stuck in my head for so long, but I couldn't afford the sequels and lost my copy! I've been wanting to re-read for so long! Such a wonderful read.
Some time in the future, scientists discover a cure for diseases like cancer and AIDS. They realise shortly afterwards that this drug can also make people live longer. But living longer means population overcrowding, and so the Declaration was agreed. If you are taking Longevity, you cannot have children. If you want to have children, you can Opt Out of Longevity. One child per Opt Out.
Of course, as Surplus Anna would say, people want to have their cake and eat it too. The children born to those on Longevity are called Surplus. They are Surplus to population, unneeded, unwanted.
Anna is one of the Surplus living at Grange Hall, where they are taught how to manage a household so they might become a Valuable Asset for a family. She has been completely brainwashed into thinking that she is worthless, and that this life of servitude she has been forced into is more than she deserves. Anna is a hardworking young girl who is determined to prove herself to the only motherly figure in her life, Ms. Pincent, who absolutely abhors her.
It's so sad.
When Peter is brought to Grange Hall, everything changes. Anna begins to question what is going on in Grange Hall and what life could be like on the Outside.
I'm only a couple of chapters in at the minute, but I have forgotten so much that I can't wait to rediscover through Anna.
I'm really glad I bought this (for my Kindle) as I have been aching to read it, and I'm zooming through the pages so fast. I'm so engaged with the story, I just want to grab Anna and give her a slap and just tell her that she's been brainwashed! I'm going to leave it at that and carry on reading!
Read if: you enjoy dystopian novels.
aimes.